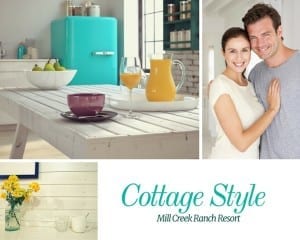 What's one of the most fun reasons to buy cabins for sale in Texas? Decorating your new space! Cottage decor continues to be a popular style, with loads of magazines and decorating websites devoted to sharing tips and ideas for making your home look like a cottage. Of course, if you have a cabin of your own, you're halfway to having the cottage look already!
If you're looking for new ways of making your home or cabin the perfect cottage retreat with just the right cozy style, here are a few tips to remember:
White and Warm–white-washing paint over distressed wood or existing paneling is one easy way to create a cozier look and provides a neutral yet stylish background to allow the details of your cottage style to pop
Whimsical accessories–a cottage is the perfect spot to let your personality shine, and First Monday in Canton provides the perfect place to browse for the unusual pieces that tell the story of your vacation life. A bright pottery collection, wooden angel statues, old windows and doors with loads of character–each adds interest to your interiors. Mix new finds with family treasures for the most visually interesting rooms.
Wicker furniture–although wicker is normally associated with outdoor furniture, using it indoors with more formal pieces enhances an air of rustic and casual elegance in your cabin.
Wooden DIY pieces–are you handy? Whether you're an experienced craftsman or an enthusiastic novice, filling a cottage with hand-hewn items ups the charm factor considerably. Weathered–your pieces need not be new to add life to your cottage. Instead of chasing perfection, the cottage look celebrates the nicks and scratches that tell the storied history of the piece.
Wild–have you always wanted to try your hand at decorating with multiple patterns and bright colors? Grab a scrappy quilt or two, a braided rug, funky pillows, polka dot drapes, and a bunch of flower photographs in primary colors. You might be surprised at how vibrant and livable your space seems. The smaller scale of cabins for sale in Texas gives you the perfect chance to make a "test lab" for your decorating ideas. Who knows? You might find that you want to incorporate your newfound flair back home!
Mill Creek Ranch Resort
has a fantastic array of
cabins for sale in Texas
that will allow you to test your hand at decorating, cottage style! You can make your own perfect getaway any time you want! Even better, you're in a resort setting with amenities and activities to make each vacation memorable. No matter how you decorate your cabin, your time at Mill Creek Ranch Resort will be wonderful!!
Cabins for Sale in Texas
Mill Creek Ranch Resort
1880 N Trade Days Blvd
Canton, Texas 75103
(877) 927-3439